Foodservice Social Media Universe 2013 [#FSMU]

Sunday, September 15, 2013 at 5:00 PM

-

Tuesday, September 17, 2013 at 2:30 PM (CDT)

Austin, TX
Who's Going
Loading your connections...
Event Details

 _
GENERAL OVERVIEW
GENERAL OVERVIEW
Welcome to the 3rd annual Foodservice Social Media Universe (#FSMU) Conference and Expo. A lot has changed in a year with how restaurants monitor, manage and measure social media and engage with their influencing brand advocates. What's new with mobile? How are operators, marketers and human resource departments utilizing the power of the social web? What is new and who are the next leaders in delivering innovative new products and solutions? How can we effectivel measure social intelligence? What really is the voice of the customer and what can a restaurant professional do to drive new business? 
Foodservice Social Media Universe is about shrinking that massive social media universe of infomation that is most relevent to our industry. Because 70% or more of all online conversations are about food, it really is all about us.
In 2013, we will focus on the technology-driven transformation of the foodservice industry. How social and technology is at the core of app development and customer experience management. We will again, examine best practices for social media execution in the restaurant industry, uncover new strategies, learn new tactics and expand our universe of restaurant + technology providers. The conference will feature keynotes and informative panel sessions on important social media topics, the growing impirtance of mobile, including but not limited to:
Customer Experience Management (CEM)
Customer experience Management is gaining momentum as the umbrella term and method for improving and managing customer satisfaction, increasing brand advocacy and customer retention in an economy now powered by C2C conversation.
Voice of the Customer (VOC) must be tightly integrated to ensure that your customer experience program is effective, and vital insight is not lost in silos. this white paper looks at why customer experience programs need to include the Voice of the Customer and discusses key requirements to ensure that voice speaks clearly.

We will examine the use of technologies that help score the social presence, rating and grading at the unit-level and street address.

How to move from single customer retention metrics to a more holistic, multi-dimensional understanding of your customers' experiences.

How NOT following up with dissatisfied customers hurts your brand and how best to recover.
Social Web Analytics (Big Data)
This is the year of Big Data. Foodservice is at the core of the Lifestyle Data Loop™. More than 70% of all online conversations discuss food -where to buy, when, who, how, why and what we eat fill our billions of blogs, status updates, Tweets and images. What is the data? How to interpret customer data and move it to insights, then intelligence and finally, to ideas that produce the ROI we all seek.
Social Media Management Systems (SMMS) are the curators of brand and product content. These tools allow us to access real-time conversations between consumers, categorize content, engage with our customers and analyze the key social elements: behavior, products, demographic, psychographic, intention, location, referral and purchasing insights.

We will examine the tools, techniques, methods and sort through the noise to find the signal that delivers the value we need to better manage our online reputations

What's new? Which software providers do the best job for the restaurant industry? Which SMMS is better for B2C and which works best for B2B social media management.

We will examine industry benchmarks, look at the social media index for restaurants in a whole new way.
Social Media Successes and Case Studies
This year we will present dozens of successful social media marketing campaigns in four industry sectors: QSR, Fast Casual, Casual and Upscale/fine dining. We will show you exactly how to develop a strategy, define your social media marketing objectives, create the campaign, implement the campaign and measure the effectiveness and return on investment.
While social media is far more than just a marketing tool, we will learn what others have done not only in the restaurant industry, but others consumer-facing industries as well.

We will examine restaurant to customer campaigns that focus on a single social networking platform. We will also look at how best to leverage multiple platforms simultaneously.

We will examine business to restaurant campaigns - their inspiration, methodology and execution

We will include use cases and application for Social Media in Operations, Workforce Management, Purchasing, Real Estate, and Finance. Social media + technology = powerful and useful Big Data.
We live in a mobile world where we now text more than make calls. We check-in, map, discover and share our dining experences, photos and more, using mobile devices. What's in store for the restaurant industry when mobile and social emdia converge in a local marketplace?
Learn how to leverage the best mobile technology and consumer tools

Meet technology vendors that help you message, market and engage with your customers

Engage the feedback loop to better measure your social score
Restaurant Technology Solutions & Expo
There are literally thousands of information technology companies developing software for our industry. These innovative young companies are not only targeting consumers with apps, they are also developing powerful technologies designed to create efficiencies in operations, finance, human resources, purchasing, real estate and marketing. Business apps are converging with consumer apps in new and meaningful ways:
Deals, coupons and offers

Online communities

The social networking platforms

Restaurant discovery

Mobile everything; ordering, feedback and payment

Reviews and search

Marketing and promotion

Social web analytics

Customer advocacy

Ad networks and email

Social commerce
Agenda
SUNDAY, SEPTEMBER 15
2:30 PM – 4:00 PM – Pre-Conference Workshop - Social Media Refresher 
(Optional: Additional cost for participation) 
Maybe more advanced that Social Media 101, but you still feel like a refresher course will needed to prep you for the depth and breath of information coming up at FSMU? This is for you! Limited seating based on availability. 
Capitol View Terrace
5:00 PM – 5:30 PM – Opening Remarks 
Michael L. Atkinson, @michaelatkinson, Founder @FohBoh 
Michael has over 30 years of experience as a restaurant operator and chain executive, Internet technology and social media entrepreneur and most recently, Founder of FohBoh.com. Michael is a passionate advocate for social web technology and customer intelligence, as founder and CEO of Smarter Restaurant.
Capitol Ballroom, A-D 
5:45 PM – 7:45 PM – Welcome Reception 
Don't miss this opening reception outside under the oak tree listening to live music by a local Austin band. This is your first opportunity to network with your fellow conference attendees while enjoying some appetizers and cocktails. 
Creekside Foyer & Patio
MONDAY, SEPTEMBER 16
7:00 AM – 8:30 AM 
Registration Opens & Breakfast 
Capitol Ballroom, A-D
8:30 AM – 9:30 AM 
Opening General Session: Social Media Update and Trends for Restaurants 
Speaker: Jeremiah Owyang, Altimeter Group, @jowyang 
In this exciting keynote, Jeremiah will define how restaurants of all sizes should be utilizing the most relevant voice of the customer insights tools, technology and information to power their strategies. 
Capitol Ballroom, A-D
9:30 AM – 10:00 AM 
Networking Break 
Sponsored by: @FohBoh 
10:00 AM – 11:00 AM 
Topic: Content marketing for foodservice, transforming your restaurant brand to a media company. Michael will deliver an impactful presentation on how to leverage your brand equity, the social web, creativity and content to energize your restaurant brand and improve your social presence and social score. 
Presenter 
Michael Brito 
Edelman Digital, @britopian 
Capitol Ballroom, A-D 
11:00 AM – 12:15 AM 
Social Media Speed Dating – Meet restaurant technology innovators 
Restaurant Technology Vendor Showcase 
During this session you will have the chance to visit different stations of social media and restaurant technology service providers in a "fast pitch" environment. This block of time will be divided into timed sessions, which allow our sponsors to introduce themselves, showcase their products and articulate their value proposition. Utilize this FSMU-only time to familiarize yourself with these incredible products and learn how you can integrate their solutions into your digital marketing and social media strategies. Make plans with participating vendors for current and future social media needs. 
Capitol D Foyer
12:15 PM – 1:45 PM 
Lunch & Keynote Topic: Influencers vs. Advocates how to find them, and engage them to support your brand 
Rob Fuggetta, Founder & CEO @ Zuberance
Rob is among the world's leading experts on brand advocacy. Rob is the author of the groundbreaking new book, "Brand Advocates: Turning Enthusiastic Customers into a Powerful Marketing Force, and Founder & CEO of Zuberance, a social media marketing company that powers Brand Advocate programs for top consumer and business brands.
2:00 PM – 3:00 PM - SESSION ONE 
Mobile Marketing Innovation and Trends for Restaurants 
With the proliferation of smart devices now over 50%, restaurant operators must find a way to reach the mobile consumer when they want to eat and are ready to make a decision. What tools and apps are best in breed? How do you use them to pull traffic into your restaurant? During this session you will learn how to motivate your customers to engage with you and share their experience with their social network, check in, leave tips and leverage marketing opportunities. while dining and stimulate referral and positive reviews soon after.
Presenters 
Asif Kahn
CEO and Founder LBMA 
Sean Beckner
CEO & Founder, Front Flip 
Libby Tucker
CEO & Founder, PromoBomb 
Cody Rose 
Hospitality Head, Squareup
Capitol Ballroom, A-D 
3:00 PM – 4:00 PM - SESSION TWO 
Social Media Reputation Management – Dashboard Management = Engaged Customer
An effective social media strategy still begins with listening. What is a Social Media Management System (SMMS) and who are the leading software vendors that offer solutions to the restaurant industry? Moreover, what do all those blinking lights, charts and graphs, alerts and scrolling fields. During this session, learn how a restaurant operator can leverage these amazing technologies to improve guest satisfaction, drive brand affinity, and increase sales.
Presenter 
Chuck Hemann @Group Director, Analytics for WCG 
Capitol Ballroom, A-D
Monday, September 16, 4:00 PM – 4:30 PM
Networking Break
Sponsored by: @FohBoh
 BREAKOUT SESSIONS 
A - 4:30 PM – 5:30 PM - SESSION THREE 
Restaurant Operators – Real World Community Management 
We have come a long way from the early days of engaging with guests online and wondering what exactly a hash tag was. During this session, learn what expert restaurant social media practitioners do daily to monitor, measure results, engage, foster brand affinity, encourage referral, and better manage guest satisfaction in a fast moving, ever changing online social media environment.
Presenters 
Benson Kelsey 
Social Media Strategist @fohboh 
Stephanie Robinson-Williams 
Social Media Manager @ Magiannio's - Brinker International 
Marcie Morris Everett 
Interactive Marketing Manager @RedRobin 
Capitol Ballroom, A-D
B - 4:30 PM – 5:30 PM - SESSION FOUR 
B2B Social Media – Optimizing business partner relationships using the social web 
What's new, what's next for social media in the business-to-business environment? How are vendors utilizing social media tools to more effectively communicate and educate their customers? During this session, learn what foodservice industry pros are doing to find new customers, learn more about their needs, assess their challenges and deliver customized solutions to better compete. Hear winning strategies and tools used that improve relations, foster new ideas and increase sales? 
Presenters
John Harris 
Location3 Media 
Tom Carusona 
Digital & Social Media Strategy @ Aramark 
John Scroggins, 
Vice President, Integrated communication, Noble, @scrogdogg, 
Creekside
C - 4:30 PM – 5:30 PM - SESSION FIVE 
Restaurant Social CRM – Integrated SMS marketing tools, modes and value propositions 
The POS is not just for processing payments - it's a customer relations and customer engagement control center that can help pad your bottom line. Learn how to leverage these powerful technologies to enhance your marketing efforts and increase customer retention and average ticket size.
Presenters
Seth Harris 
Groupon 
Eli Chait 
CEO founder, CopilotLabs 
Chris Webb 
CEO, ChowNow 
Michael Hagan 
COO, theLevelup
Capitol View Terrace
6:00 PM – 10:00 PM 
Special outing: Threadgill's for Texas-style BBQ and Live Music 
Benefits the Dine Out for No Kid Hungry program, please be generous
Sponsored by: Location3 Media 
Enjoy old-fashioned Texas BBQ, drinks and live music with your fellow conference attendees and speakers at the famous Threadgill's Music Hall. More than 15 million kids in America struggle with hunger.  Share our Strength connects these kids to food they need, not just today but for the long term. Participating restaurants raise funds through a variety of ways to support No Kid Hungry. Meet up at the hotel lobby at 5:45 PM to share a short taxi ride to Threadgill's.
TUESDAY, SEPTEMBER 17
7:30 AM – 8:30 AM 
Registration Opens & Breakfast 
Capitol Ballroom, A-D
8:30 AM – 9:30 AM 
Opening Keynote: Speaker: Special Guest 
Capitol Ballroom, A-D
9:30 AM – 10:30 AM - SESSION SIX 
Building a restaurant technology company in today's fast-paced, competitive environment using social media tools, technology and inspired leadership. 
More than most other restaurant technology entrepreneurs, Noah has established a leadership position in online take out software. His company offers restaurant operators new innovative products and solutions that serve to increase sales and engage customers. Noah will share ideas on leadership and his commitment to delivering solutions to increase sales, manage data and improve human performance.
Presenter
Noah Glass 
Founder CEO, OLO 
Capitol Ballroom, A-D
10:30 AM – 11:00 AM 
Networking Break 
Sponsored by: @FohBoh
BREAKOUT SESSIONS
A - 11:00 AM – 12:00 PM - SESSION SEVEN 
Content Management – Identify & energize brand advocates, here is the fuel to fan the engagement flames. 
You have brand, the tools and the experience finding and engaging advocates and influencers. So, how do you sustain the relationship? During this session, learn how to the develop a marketing and content strategy that revolves around consistently producing, creating and distributing great content; turn visitors into regular customers, and turn regular customers into brand evangelists.
Presenters
Michael Cann 
Chairman at Sparq'd 
Nate Riggs 
The Karcher group 
Chelsea Hickey 
Digital Marketing Manager, Zuberance 
Capitol Ballroom, A-D
B - 11:00 AM – 12:00 PM - SESSION EIGHT 
Franchise + Franchisor Social Media Engagement and Strategy 
Franchise-based restaurant businesses operate very differently from non-franchise enterprises - and social media strategy is no exception. Learn about tools and best practices for creating an ideal balance of responsibility, content and engagement between corporate and location-specific entities.
Presenter
Angie Pascale 
Social Media Director, Location3 Media 
Lauren Barash
DIrector of Marketing, Moe's Southwest Grill
Creekside
C - 11:00 AM – 12:00 PM - SESSION NINE
Restaurant Social Media Tools and Technology – Matching tools to strategy
The right tools can take your marketing and operations to another level, but there are hundreds of options to choose from and it's often difficult to choose the right one. During this session, learn how to properly identify and implement the right tools for your particular needs, whether you're looking for a Facebook giveaway platform or new POS software and systems that are changing how we as consumers pay.
Presenters 
Brita Rosenheim 
Principal, Rosenheim Group 
Dave Hwang 
Founder, Chief Scientist, Restaurant Sciences 
Laurel Mintz 
Elevate My Brand 
Capitol View Terrace
12:00 PM – 1:45 PM 
Lunch & Closing Keynote and Awards 
Social Business, developing a new wave of micro-entrepreneurs 
Speaker: Bryan Wempen, Principal at cevoke, former Chief Strategy Officer at PeopleClues 
Over the last 10 years most customer facing service businesses have been preaching about empowering their employees to make decisions to help their customers on the spot. The leading corporate cultures actually do that such as Zappos, Scotty's Brewhouse and QuikTrip.  These are examples of organizations that have unleashed the power of free-thinking and creative-on-the-spot decision making which for their customers. Social business is both a mind-set and a culture that everyone thinks, acts and is accountable to be a micro-entrepreneur.  In the session we will discuss a culture review and some concepts to get started building your social business. 
Capitol Ballroom, A-D 
* Final agenda and speakers will be posted no later than July 15, 2103
_________________________________________________________________________
Attendees
 
Social media, the social web, social networking and cloud-based technologies are converging. This is the time for Foodservice industry professionals; both business-facing (B2B) and consumer-facing (B2C) to gather together and learn about social media best practices, foodservice technologies, social web analytics and customer experience management, as it relates specifically to their business.
Foodservice and Hospitality Attendees will include:
CEOs and other C-level operators

Marketing and communications executives

Social media practitioners

Purchasing executives

Real estate executives

Human Resource executives

Finance executives

Operations executives

Restaurant owner/operators

Media and agency executives

Foodservice distributors

Food manufacturers

Restaurant software developers
Sponsorships
Don't miss this opportunity to sponsor FSMU 2013. FOHBOH and FSMU is positioned at the intersection of food, media and technology. This is a period of sustained innovation that is transforming the foodservice industry. FSMU is the original and only conference dedicated to foodservice social media and the related technologies.
Hotel
We have reserved a limited number of rooms at special rates under Foodservice Social Media Universe. Vist the Sheraton + FSMU Hotel website here.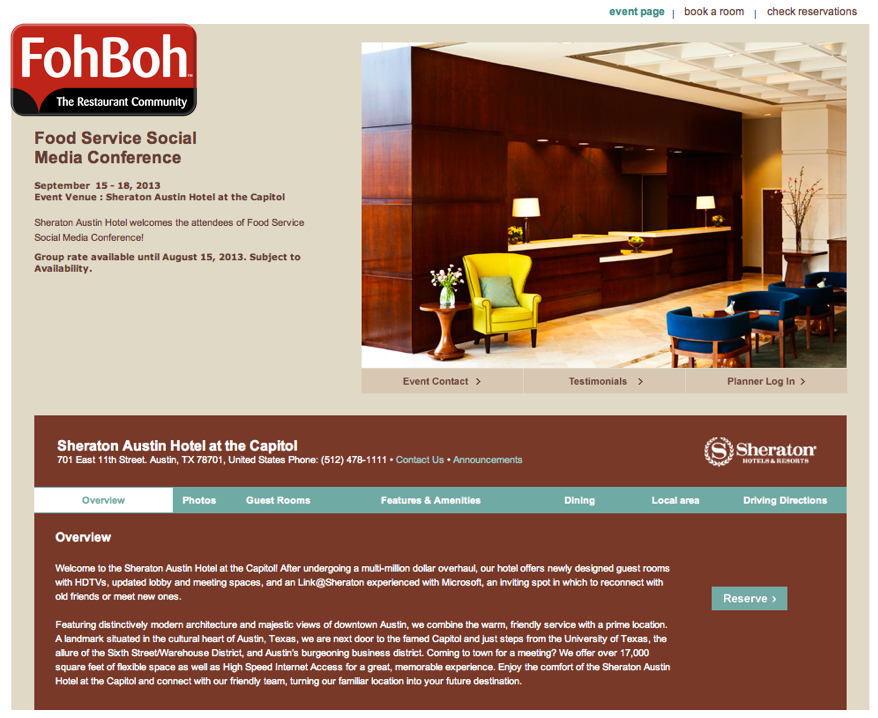 _____________________________________________________________________________________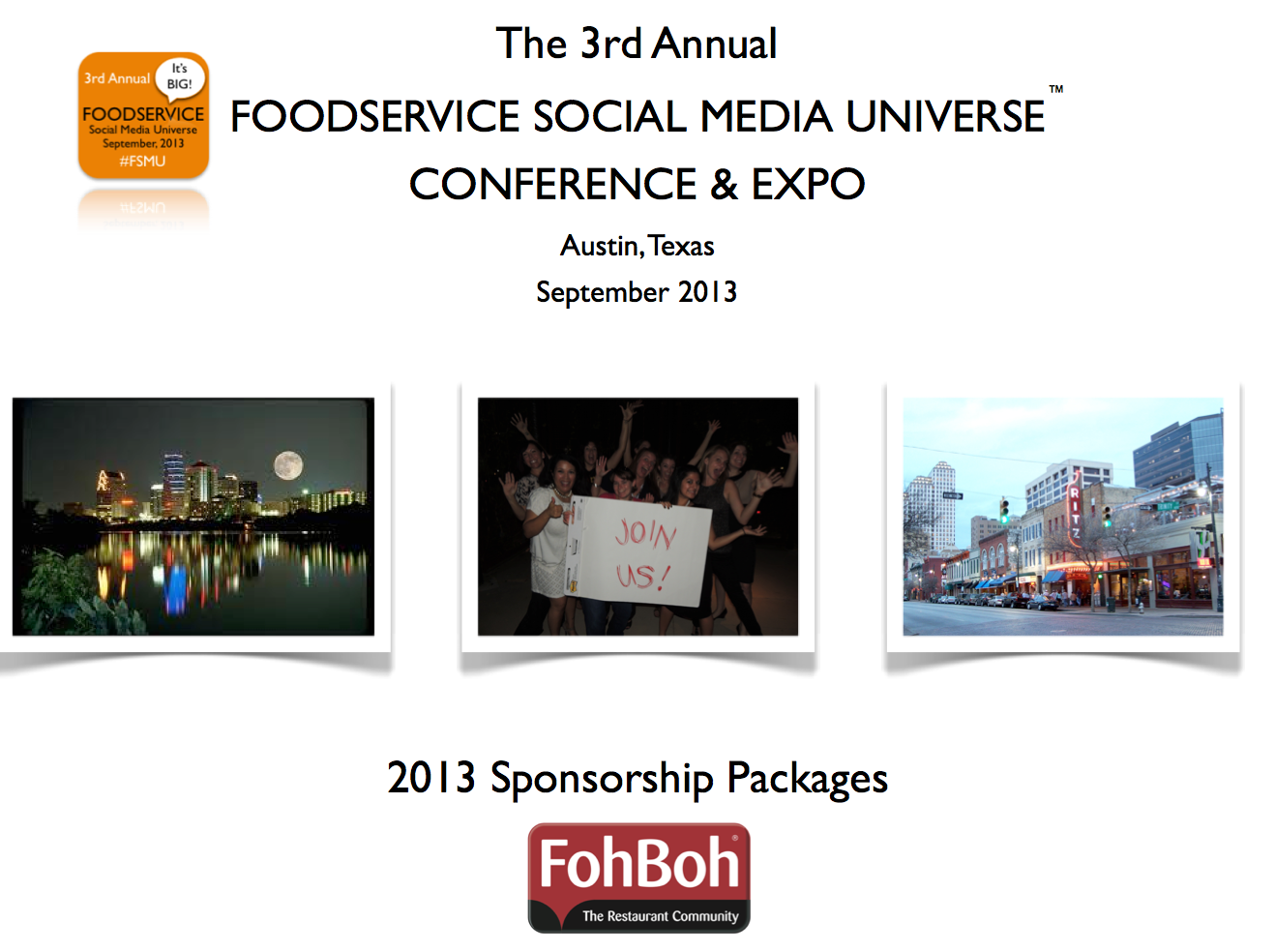 For more information about sponsorships, please click here.
_____________________________________________________________________________________
Reach and Influence
Combined reach of digital media, newsletters, Facebook posts and tweets by attendees, FOHBOH community managers and members, speakers and re-posts and tweets, we generated over 27 million social media impressions.
FSMU FAQs
Where can I contact the organizer with any questions?
Is my registration transferrable?
No. However, under certain circumstances the organizer will allow it.
Can I update my registration information?
Yes. Just log back in to change your information. If you have any problems, please contact us here.
Do I have to bring my printed ticket to the event?
It's a good idea. But, your valid ID will also work.
What is the refund policy?
We only refund for emergencies on a cae by case basis.
Are their group discounts?
Yes. See the pricing matrix above. If you have a group and it doesn't apply to the group discount pricing matrix above, please contact the organizer here. 
Are there still sponsorships available?
Yes there are sponsorships available. For information, please click here.
What is a POD?
A POD is a small exposition table offered to technology and service providers to showcase their products and services. We actually make the POD tour part of the conference, and encourage attendees to visit for short 5 minutes elevator pitches. During the remainer of the conference, attendees are free to stop by on theor own time for more information.
How many years has FSMU been hosting social media conferences?
FSMU 2013 will be our third conference. We are considering hosting two conferences each year in part, because social media and technologies are fast changing.
When & Where


Sheraton Austin at the Capitol - Austin, Texas
701 E 11th St


Austin

,

TX

78701


Sunday, September 15, 2013 at 5:00 PM

-

Tuesday, September 17, 2013 at 2:30 PM (CDT)
Add to my calendar
Organizer
FOHBOH.com
FOHBOH.com
FOHBOH ("Front of House" + "Back of House") is the leading and most influential online community and social media company for the $1.7 trillion foodservice industry. With more than 40,000 members, we offer an interactive environment and vertical industry platform for connecting and engaging with industry stakeholders from more than 130 countries.
Social Media is changing the foodservice industry and FOHBOH was there early, evangalizing, advising and providing social media services, customer intelligence and technology products to restaurant and food industry brands since 2007.
For more information on FOHBOH, please visit us here.
For information about #FSMU, please visit us here.
(408) 728-9243
fsmu@fohboh.net
#FSMU